Chloe Holliday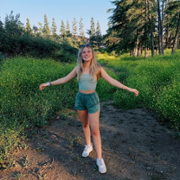 Title:
Undergraduate Research Assistant
Education:
B.S. Chemistry with a minor in Pharmacology and Toxicology; Michigan State University, in progress
Working in the Brandizzi Lab:
As a chemistry major I haven't been exposed to a lot of biology labs. It is exciting to learn new techniques that I haven't seen before. I also love plants so taking care of them is a fun part of the job!
Email: