Magie K. Williams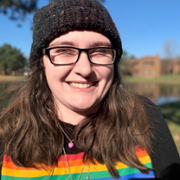 Title:
Research Assistant
Education:
B.S. Michigan State University
M.S. Queen Mary University of London, Royal Botanic Gardens Kew, London UK
Research statement:
As a part of the Great Lakes Bioenergy Research Center (GLBRC), my research focuses on the efficiency and value of plants used to create biofuels, Sorghum sp. and Brachypodium sp. One aspect of my research is observing the production of polysaccharides such as mixed-linkage glucan (MLG).
Email: will2778@msu.edu