Rylee Sokoloski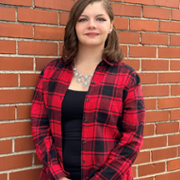 Title:
Undergraduate Research Assistant
Education: BS in Biochemistry and Molecular Biology, Minor in Pharmacology and Toxicology, (in-progress)
Research statement:
I am assisting in the engineering of mixed linkage gluten synthase (MLG) by using cell wall analysis. Using mutated versions CSLF6, a cellulose synthase protein known to the major MLG synthase. Isolating the cell wall allows us to quantify the amount of MLG deposited into the cell wall. The goal is to engineer CSLF6 to make more MLG or enhance the efficiency of its deposit into the cell wall.
Email: