Lab News
September 13th, 2021
Joining a new lab can be overwhelming. Learning a new city, getting comfortable in a new home, and making new connections and friendships has its own set of struggles. When you add in a pandemic, those stresses amplify tenfold – unless, of course, you work in a plant science lab that studies stress.
Graham Burkart joined the Brandizzi Lab in 2020, just before COVID-19 turned the world upside down, joining us from Washington University in St. Louis. There he honed his skills in biochemistry and in-vitro microtubule assays, studying how the organization of the microtubule cytoskeleton is regulated, which in turn regulates the organization of cellulose microfibrils in the cell wall. Before St. Louis, Graham received his undergraduate degree at the University of Vermont and completed his Ph. D. at the University of Massachusetts – Amherst doing research on polarized growth in moss. Graham was drawn to the Brandizzi Lab after seeing a posting for a position and reading a paper by fellow researcher Pengfei Cao, published out of the Brandizzi Lab, and found the work here to be right up his alley.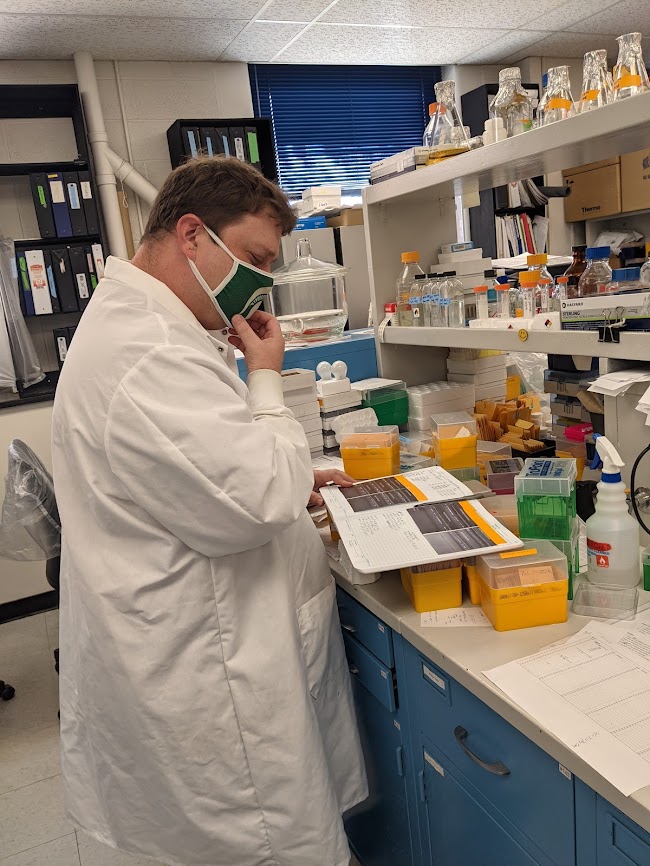 Growing up, Graham was always curious about the workings of natural organisms, but his inspiration to pursue a career in science came from an article he read during a gap year that he took to take care of his mother, who had a stroke during his freshman year of college. The article was about a nearby town that had been using plants to remove mercury leftover in soil from a decommissioned hat factory. Recognizing the many applications that plants can have on our world, Graham went on to study plants in grad school, and fell in love with plant cell biology in the lab at UMass-Amherst.
With most of Michigan shutting down soon after his arrival, Graham had plenty of time to spend entertaining his two cats and diving into his research in the Brandizzi Lab. He has multiple projects on his hands working with plant proteins and the target of rapamycin (TOR) – a regulator in plant growth that determines if the plant has enough resources to grow, or if it needs to conserve energy and halt developmental advancement. Graham loves working at the microscope, which is his favorite part of lab work, but finds genotyping – analyzing DNA – to be a necessary evil.
After completing his work with us at the Brandizzi Lab, Graham plans on continuing to work in academia, having enjoyed teaching a summer course in biotechnology, but is entertaining the idea of going into industry.
He would like to thank his cats, Taco and Sweetie Pie, for their never-ending support.
September 9th, 2021
Growing up on a small farm in rural Michigan, Cait had a myriad of opportunities to learn about life sciences. Her first research projects were unconventional – her father owned a wild game processing business, and his only employee taught her how to trap wild game. She was fascinated by why certain animals they trapped were different shades or sizes and wanted to know if there was any correlation to their environment, diet, or genetics. As she got older, Cait started raising rabbits on the farm, and studied color genetics, learning which colors bred together would produce certain phenotypes, and developed different bloodlines based on colors and patterns.
Cait didn't know any scientists, so she didn't see herself working in a lab or in research, but she knew she wanted to do something related to animals or genetics. She attended the University of Wyoming for a year, and transferred to Sterling College in Vermont, where she studied Sustainable Agriculture and researched humane livestock systems while working on the school's farm. After Sterling College, she completed her certificate in Livestock Industries at MSU's Institute of Agricultural Technology and worked at the MSU Sheep Teaching and Research Center, specializing in small ruminant management. Cait particularly wanted to go into sheep or domestic cervid production, being especially interested in farmed whitetail deer populations. While at an internship at White Oak Pastures in South Georgia, she participated in parasite management research, forage production, livestock guardian dog training, and land reclamation projects using goats. Currently she is working towards completing a degree in Agribusiness – Farm and Ranch Management through the University of Tennessee – Martin (online).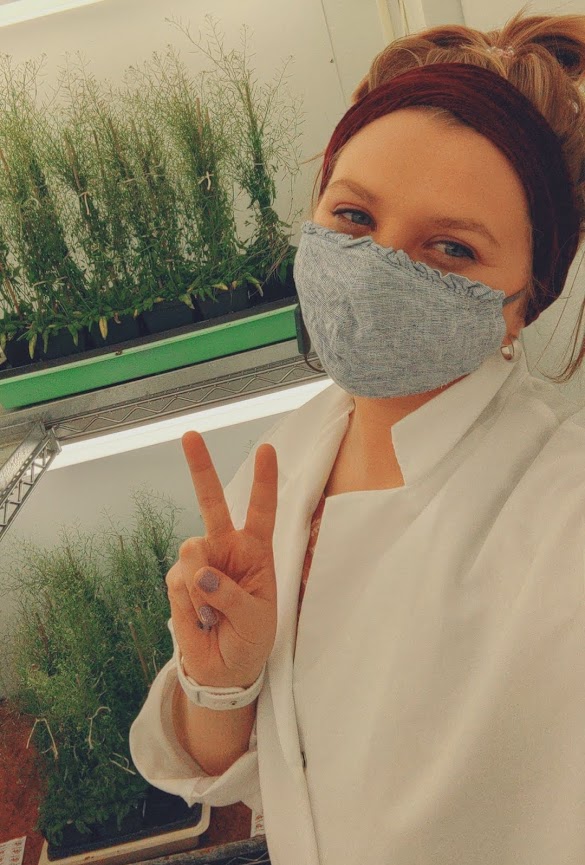 Cait loves doing laboratory work and is driven by seeing the results of her efforts from start to finish, for example, plating seeds, watching them grow, and harvesting seeds from those plants. Although she didn't expect to find herself working in a research lab, she aspires to be someone that her teenaged self would be proud to be and being in the Brandizzi Lab has gone beyond her self-expectations. Cait also enjoys managing the lab's social media and supporting the researchers and Dr. Brandizzi.
Her least favorite part of the day is the last half-hour of work on a Friday afternoon.
---
September 7th, 2021
Rarely are paths in life linear. We often reach our destinations in roundabout ways, making the journey that much more fulfilling. For graduate student Ethan Thibault, the journey certainly has been an adventure – and hopefully will lead to many more.
Ethan grew up in Vermont, loving science and the world around him. His analytical mind was always asking "why" and "how", spurring him to reach for answers. Ethan remembers always asking for extra assignments in his science courses in school and says that he knew from an early age that he wanted to go into a scientific field. He was torn between chemistry and biology and found that plant science was a perfect intersection of the two fields. Ethan became especially interested in molecular and cellular biology, and immediately dove into research as a freshman at the University of Maine. He started out in the Biomedical program, studying Candida albicans using zebra fish, and took a course where he characterized and sequenced the genome of a bacteriophage, inspiring him to shift his focus to microbiology. This prompted a National Science Foundation REU application, an adventure to South Dakota State University to work on salt tolerance in grass species, and then a stint at the Boyce Institute at Cornell University studying arbuscular fungi in Brachypodium. Ethan transferred to his home state to complete his degree at the University of Vermont, researching eco-genomics in balsam poplar and red spruce trees and comparing ancient pollen DNA sequences to current populations to predict trees' ability to adapt to changing climate stressors.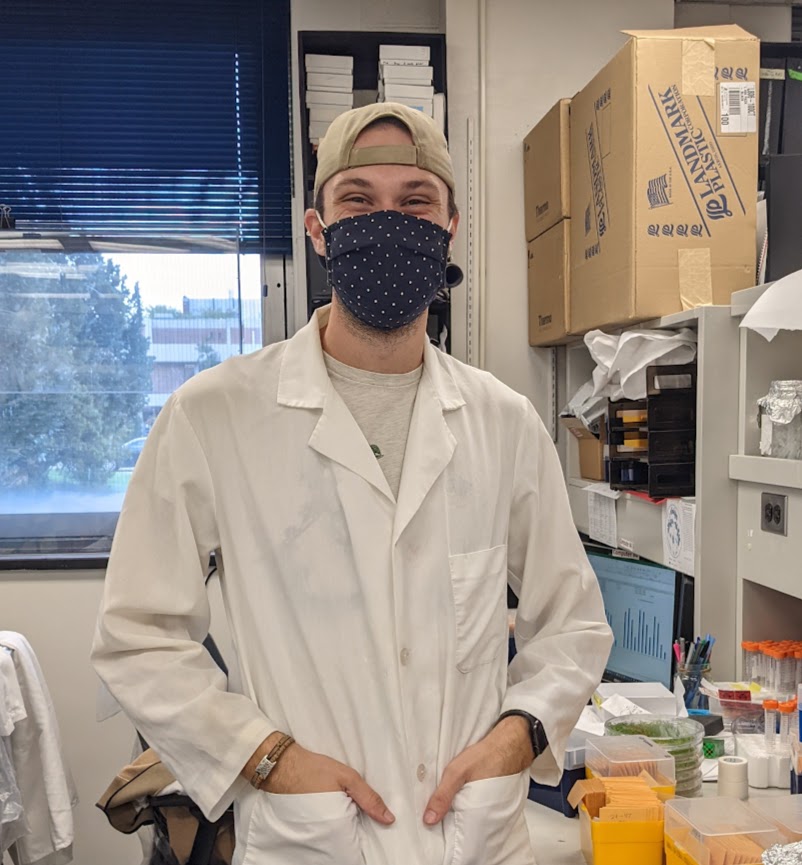 Even with all this work under his belt, Ethan wasn't done. He is passionate about bridging the gap between research and practical application, which he found in the Brandizzi Lab at Michigan State University. Ethan appreciated the number of resources available, and the sheer size of MSU's plant biology community, which fuels the cross-contribution of ideas that he enjoys in the lab. Communication is Ethan's favorite part of working in science, and he enjoys sharing his knowledge with others, making our weekly lab meetings one of his favorite activities in the lab.
Currently, Ethan is working in the Unfolded Protein Response (UPR) group, studying how different proteins react with one another in the UPR pathway, as well as examining how different proteins behave under endoplasmic reticulum stress. After completing the Michigan leg of his journey through science, Ethan doesn't expect to stay in academia, but wants to get involved in application of his work and has been considering going into the non-profit or community development sectors.
---
September 1st, 2021
Working with plants is a given in a plant biology lab, and for many researchers, it is their favorite part of the day. Postdoctoral Researcher Naveen Sharma is no different. Naveen was always fascinated by the world around him. His love for science was spurred by a Discover Channel forensic show called Medical Detective. In this show, they used DNA and fingerprinting to convict criminals, and Naveen was intrigued by the biology behind these practices. In addition to his interest in DNA and biology, Naveen has a keen eye for beautiful things in nature, especially lush greenery, and the bright colors that different plants exhibit.
These passions led Naveen to pursue a career in science. Born in a small village in India, he went on to study Botany and attained his PhD in Plant Molecular Biology at Delhi University. The Principal Investigator at his lab in Delhi had attended Michigan State University, and shared fond stories about MSU with Naveen. Inspired by his PI's experiences, Naveen decided to take his skills to East Lansing to study under Dr. Federica Brandizzi.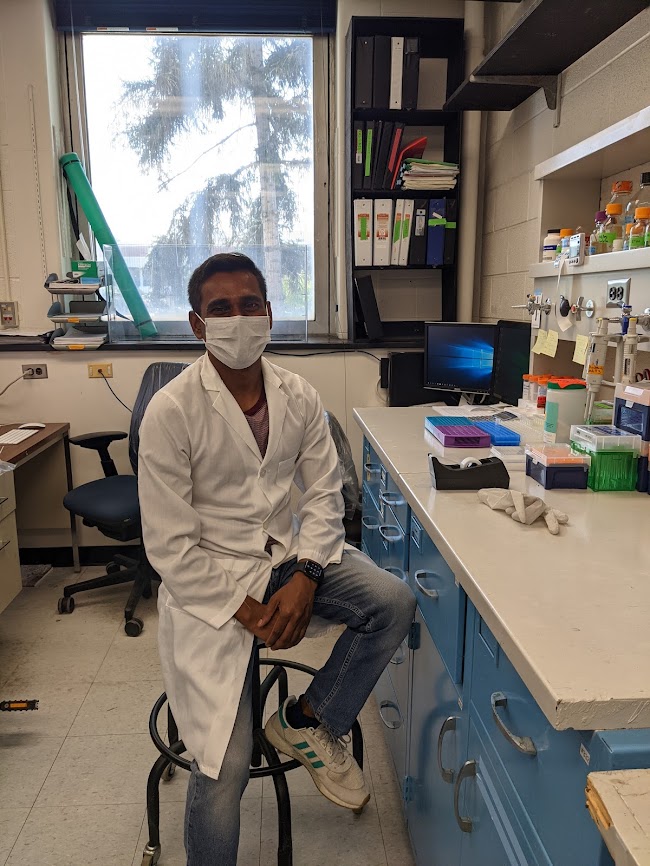 Naveen is researching enzymes that play major roles in photosynthesis and leaf function. Naveen aspires to publish great research and become a professor at home in India and knows that being in the Brandizzi Lab will help him reach that goal.
In the meantime, Naveen takes every opportunity to spend time with plants in and out of the lab, whether that be nurturing his rooftop garden, taking colorful nature photos, or plating Arabidopsis.
---
August 26th, 2021
With all the preparation and work that goes into an experiment, Jooyong's favorite moments in the lab are when he reaches the end of an experiment, but today, we found him making media to plate seeds – which he says is his least favorite task in the lab.
Jooyong Kim is one of the newest members of the Brandizzi lab, joining us as a Postdoctoral Researcher in the Unfolded Protein Response (UPR) group, studying how plants react to stress, and how different components in a plant make-up contribute to the UPR process in response to stressors. He is interested in studying UPR because of its importance to plant growth, and specifically is working towards understanding how the different partners in the UPR process work together.
Jooyong's interest in science started at a young age. Science explained phenomena that, to the naked eye, seemed impossible. This sparked in him a need to learn about why the world's natural processes moved as they did, and he wanted to contribute to the hundreds and thousands of years of science before him. He also notes that the idea of learning new information as it's happening, before it's shared with the world, brings its own level of excitement.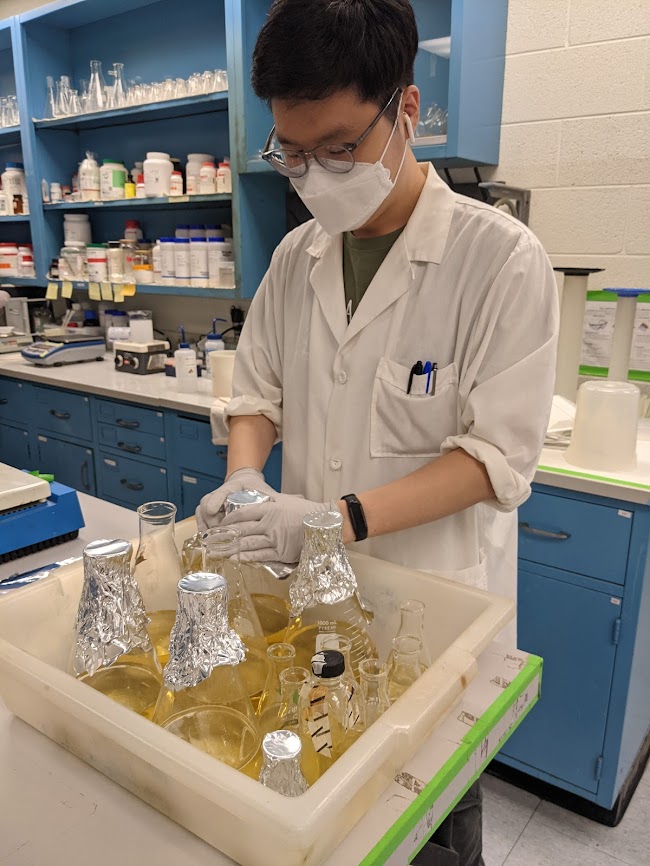 Jooyong took this interest to Seoul National University in South Korea, where he studied plant biology. His background in scientific research related to plant stress made the Brandizzi Lab a great fit. Jooyong was drawn to the lab's publication prolificacy, and in studying the lab's work, he knew that it was a field that he was well-suited to with his prior experience. And, he adds, it helped that the Brandizzi Lab was hiring.
Where does Jooyong see himself in the future?
He wants a good, stable job to settle down in – maybe as a professor, or as a researcher in an established institution. We all root for him in these goals!
---
August 11th, 2021
Let's meet Joanne, a Ph.D. student in the Brandizzi Lab. Joanne is part of the Unfolded Protein Response (UPR) team, alongside researchers Dae Kwan Ko, Evan Angelos, Ethan Thibault, and Jooyong Kim. She is a graduate student in the Molecular Plant Sciences program and the Cell and Molecular Biology program, and is also a fellow of NRT IMPACTS, a program that trains doctoral students in applying computational data science to solving problems in plant biology.
Joanne first joined the Brandizzi Lab on a rotation, working in multiple labs around the Plant Research Laboratories and gaining a multitude of skills along the way. After finishing her rotation, she came back to the Brandizzi Lab permanently as a graduate research assistant. Joanne was enticed by the size of the lab, which may seem daunting to some, but working in a large lab, she says, lends the opportunity to learn from more people with diverse backgrounds and expertise in different fields. Having many researchers within reach offers the chance for great discussion and collaboration, both things that are important for a young scientist's growth in the community.
Joanne was also drawn to the head of the lab, Dr. Federica Brandizzi. She sees Dr. Brandizzi as a role model for women in science who feel the challenge of establishing a work-life balance. Being a mother, Joanne feels this pressure, as many women in STEM fields do, but Dr. Brandizzi and other women in the lab are great examples to her that she can balance both. When applying to schools, Joanne only had applied to Michigan State University, specifically to work alongside Dr. Brandizzi.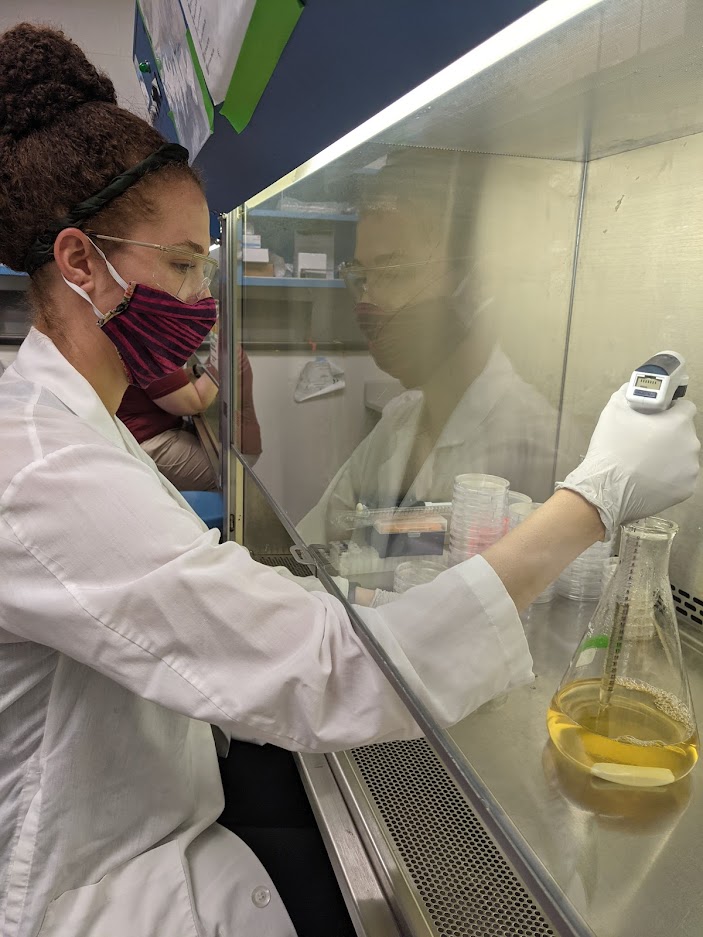 Today we caught Joanne making plates for chronic endoplasmic reticulum stress assay. The agar used in these plates contains an antibiotic, which induces stress in plants. Seeds of plants that are sensitive to endoplasmic reticulum stress are grown on the plate alongside a control to compare phenotypical attributes such as root length and size of the plant, as well as chlorophyll content. This shows how well the unfolded protein response is working in the plants of interest. Making plates is only one part of the process in her research, but it can be time consuming.
What are her plans after MSU?
Joanne says she aspires to be a Principal Investigator of her own lab, just like her mentor Dr. Brandizzi.
---
June 30th, 2021
Congratulations to our own Dr. Federica Brandizzi on receiving the prestigious title of University Distinguished Professor. This notable honor, awarded based on professors' exemplary contributions to education, public service, and scholastic success, is among the highest that may be granted upon Michigan State University faculty members. Dr. Brandizzi's bestowment is a well-earned result of her dedication to her students and her field.
May 4th, 2021
Well done, Evan, on receiving the 2021 Anton Lang Memorial Award!
This prestigious award is given to post-doc researchers and graduate students who have displayed excellence and dedication in their work in the MSU Plant Research Laboratory. Evan earned this award through his extensive contributions and publications in a diverse range of topics related to UPR (unfolded protein response), as well as his research in collaboration with NASA in relevance of UPR to spaceflight associated stresses in plants.
March 18th, 2021
Congratulations to Joanne Thomson for receiving an NRT IMPACTS Fellowship, a program that trains doctoral students in applying computational data science approaches to address challenges in plant biology. Well done, Joanne!
December 1, 2020
The lab has great news. Dr. Brandizzi will serve as a Scientific Director in Great Lake Bioenergy Research Center (GLBRC) effective December 1, 2020. Congrats Federica on your new role!
October 30, 2020
Identifying transcription factor networks that protect maize when its main cellular biofactory is under stress.
September 12, 2020
MSU doctoral student Ethan Thibault awarded a prestigious NSF fellowship. Looking forward to seeing excellent science. Great job, Ethan!
August 4, 2020
The recent paper from Dr. Sang-Jin Kim's work is highlighted: Discovery of a new strategy to produce biofuel-relevant carbohydrates in plants. This is a big step! Congratulations, Sang-Jin.
April 2, 2020
Big congratulations on Dr. Brandizzi and the lab. Federica named 2020 MSU Innovator of the Year!! Please visit here to see her story.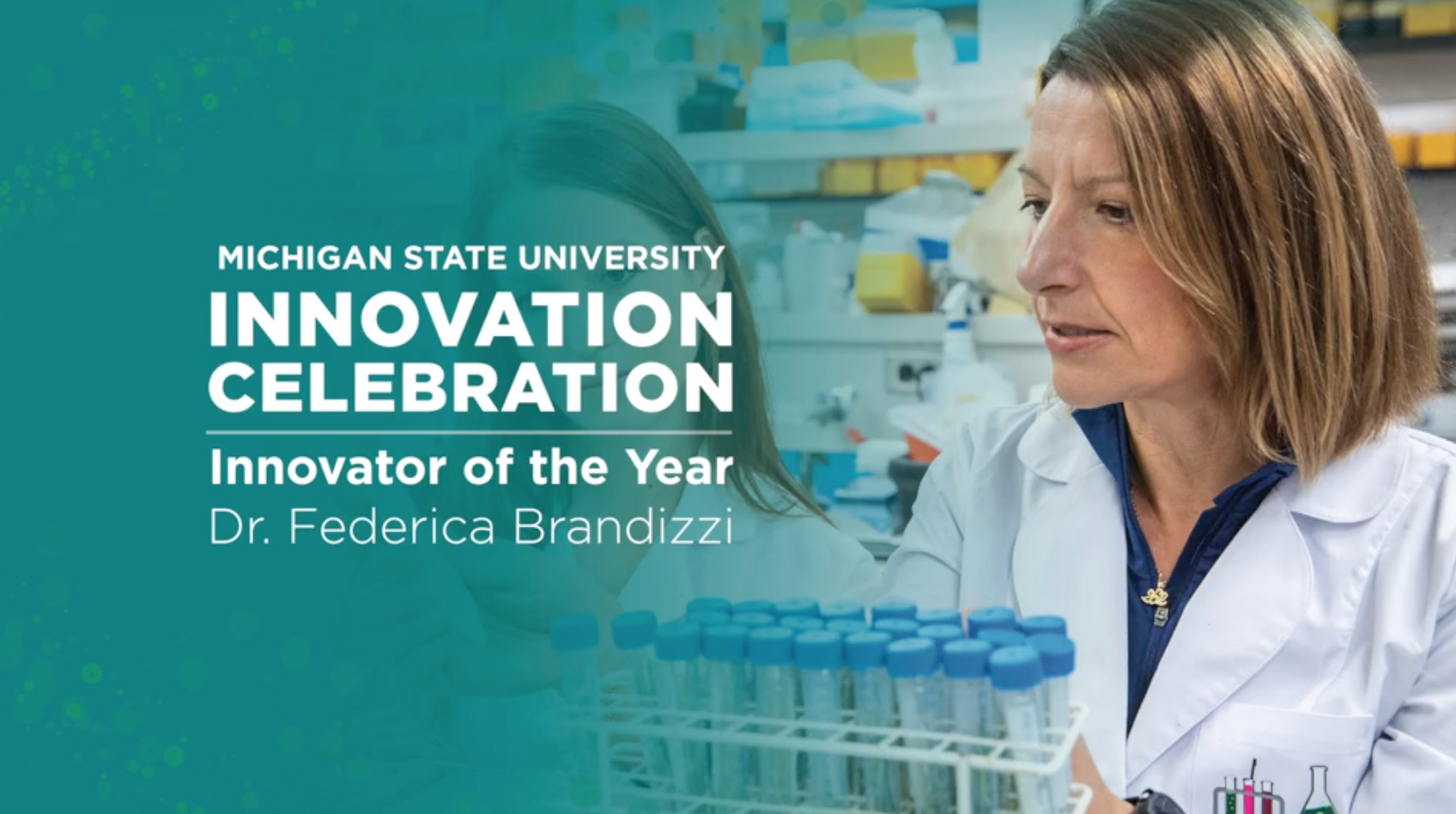 August 1, 2019
Pengfei Cao successfully defended his Ph.D. thesis! Another good news, we will not be loosing Dr. Cao. He will continue his research in the Brandizzi Lab as a postdoc to learn new skills in new projects. Well done, Dr. Cao!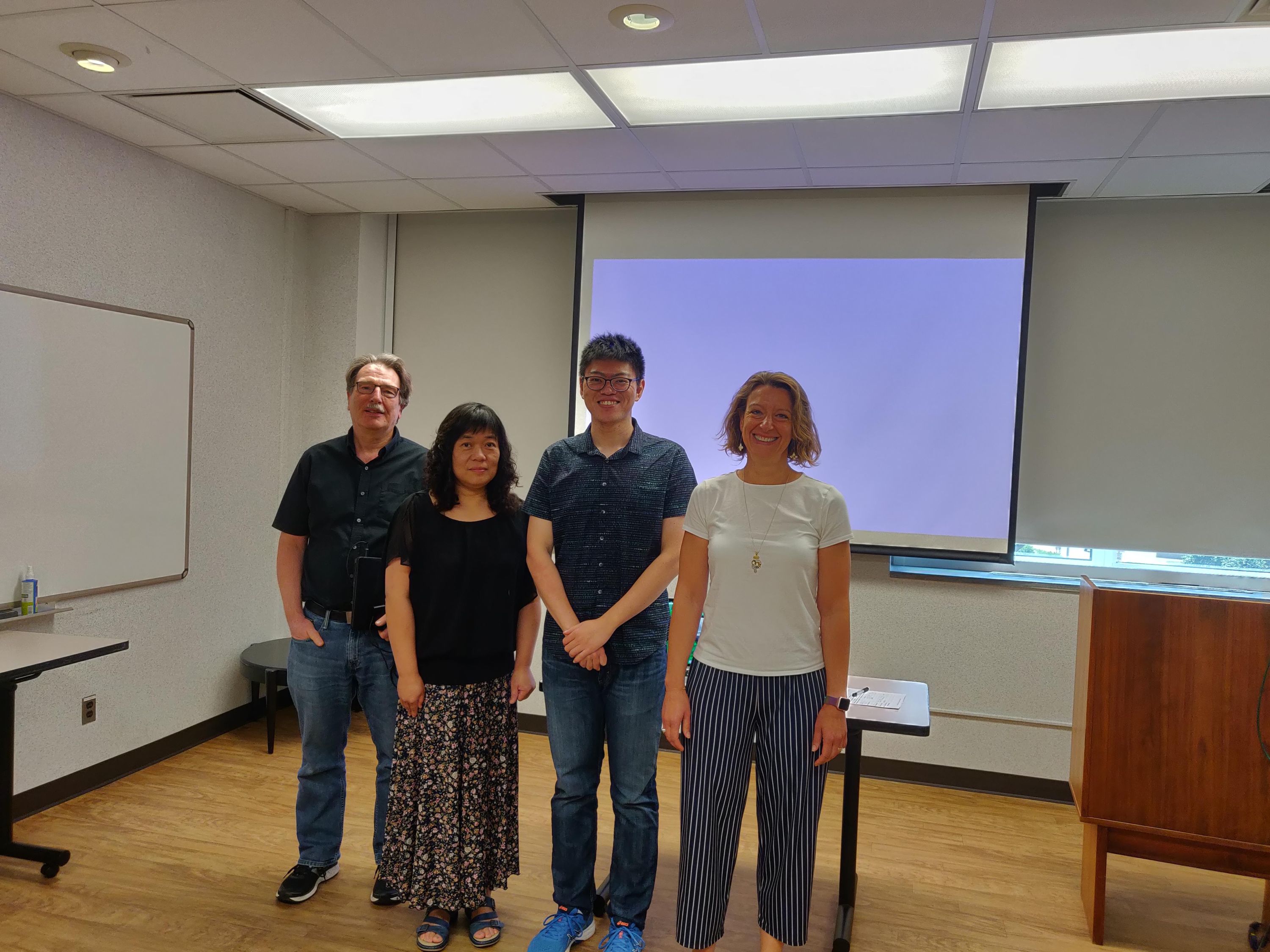 May 09, 2019
The 2019 Anton Lang Memorial Award, which is the most prestigious award for postdocs in MSU-PRL, goes to Dr. Luciana Renna! We are all proud of what Luciana has accomplished in the Brandizzi Lab. You deserve it!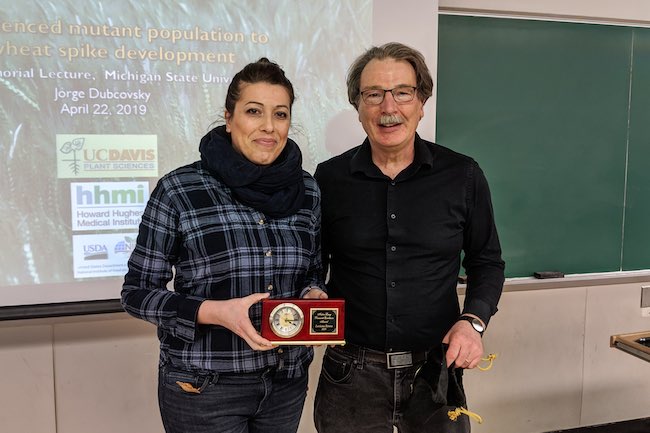 (Luciana Renna, left, with PRL director, Christoph Benning. Picture credit: Igor Houwat)
April 20, 2019
The Brandizzi Lab hosted Baby Shower for postdoc Dr. Yunting Pu. Congratulations on the newest addition to your family, Yunting!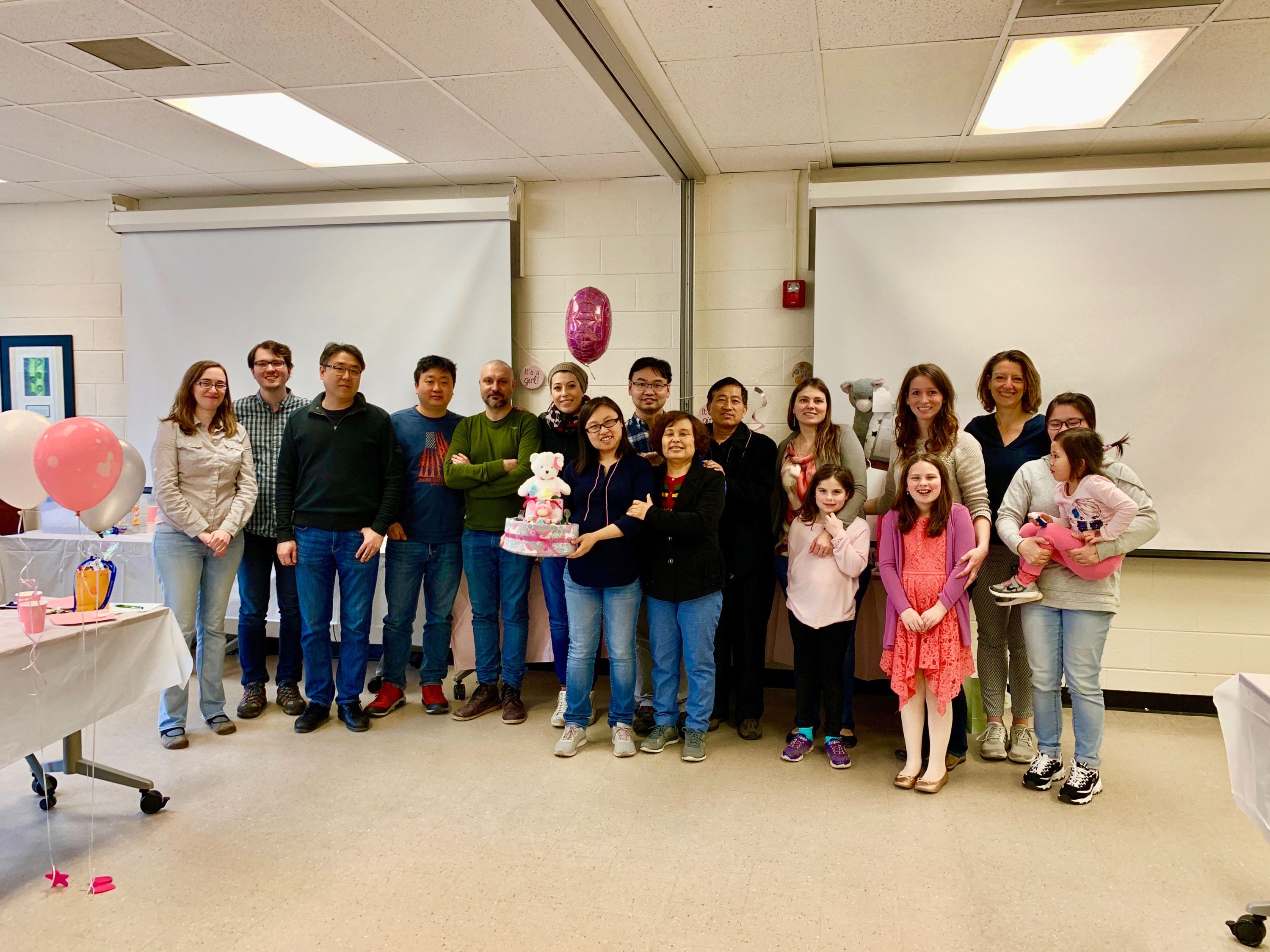 January 29, 2019
New insights into plant cell organelle and molecule movement
November 27, 2018
Dr. Federica Brandizzi named AAAS Fellow
September 25, 2018
Stressed plant roots warn the rest of the plant of looming dangers
September 17, 2018
Please let us introduce our new publication titled: "NADPH Oxidase activity is required for ER stress survival in plants" Angelos and Brandizzi, in The Plant Journal. This paper highlights that ROS play a positive role in ER stress management, which it is markedly different from animals and yeast.
August 28, 2018
Evan Angelos, Michigan native graduate student, has successfully passed his prelim and obtained the Ph.D. candidacy! Congrats!
August 22, 2018
Locating the Production Site of Glucan in Grass Cell Walls
June 19, 2018
Two plant cell 'hotspots' tell the cell where to import its resources
June 12, 2018
Study shows how a gene helps plants manage their protein production in stressful times
June 7, 2018
Announcing the inaugural winners of the Keegstra and Thomashow 2018 Travel Award
December 19, 2017
May 16, 2017
Growing pains and how that might affect seed quality
February 7, 2017
Growth-defense gene pulls many strings in plant cell factories
January 24, 2017
Investing in cell wall growth for improved photosynthesis
November 17, 2016
Discovering what keeps cellular cargo on track
August 29, 2016
Undergrads make strong showing at Mid-SURE Symposium
July 29, 2016