Lab news
May 4th, 2021
Well done, Evan, on receiving the 2021 Anton Lang Memorial Award!
This prestigious award is given to post-doc researchers and graduate students who have displayed excellence and dedication in their work in the MSU Plant Research Laboratory. Evan earned this award through his extensive contributions and publications in a diverse range of topics related to UPR (unfolded protein response), as well as his research in collaboration with NASA in relevance of UPR to spaceflight associated stresses in plants.
March 18th, 2021
Congratulations to Joanne Thomson for receiving an NRT IMPACTS Fellowship, a program that trains doctoral students in applying computational data science approaches to address challenges in plant biology. Well done, Joanne!
December 1, 2020
The lab has great news. Dr. Brandizzi will serve as a Scientific Director in Great Lake Bioenergy Research Center (GLBRC) effective December 1, 2020. Congrats Federica on your new role!
October 30, 2020
Identifying transcription factor networks that protect maize when its main cellular biofactory is under stress.
September 12, 2020
MSU doctoral student Ethan Thibault awarded a prestigious NSF fellowship. Looking forward to seeing excellent science. Great job, Ethan!
August 4, 2020
The recent paper from Dr. Sang-Jin Kim's work is highlighted: Discovery of a new strategy to produce biofuel-relevant carbohydrates in plants. This is a big step! Congratulations, Sang-Jin.
April 2, 2020
Big congratulations on Dr. Brandizzi and the lab. Federica named 2020 MSU Innovator of the Year!! Please visit here to see her story.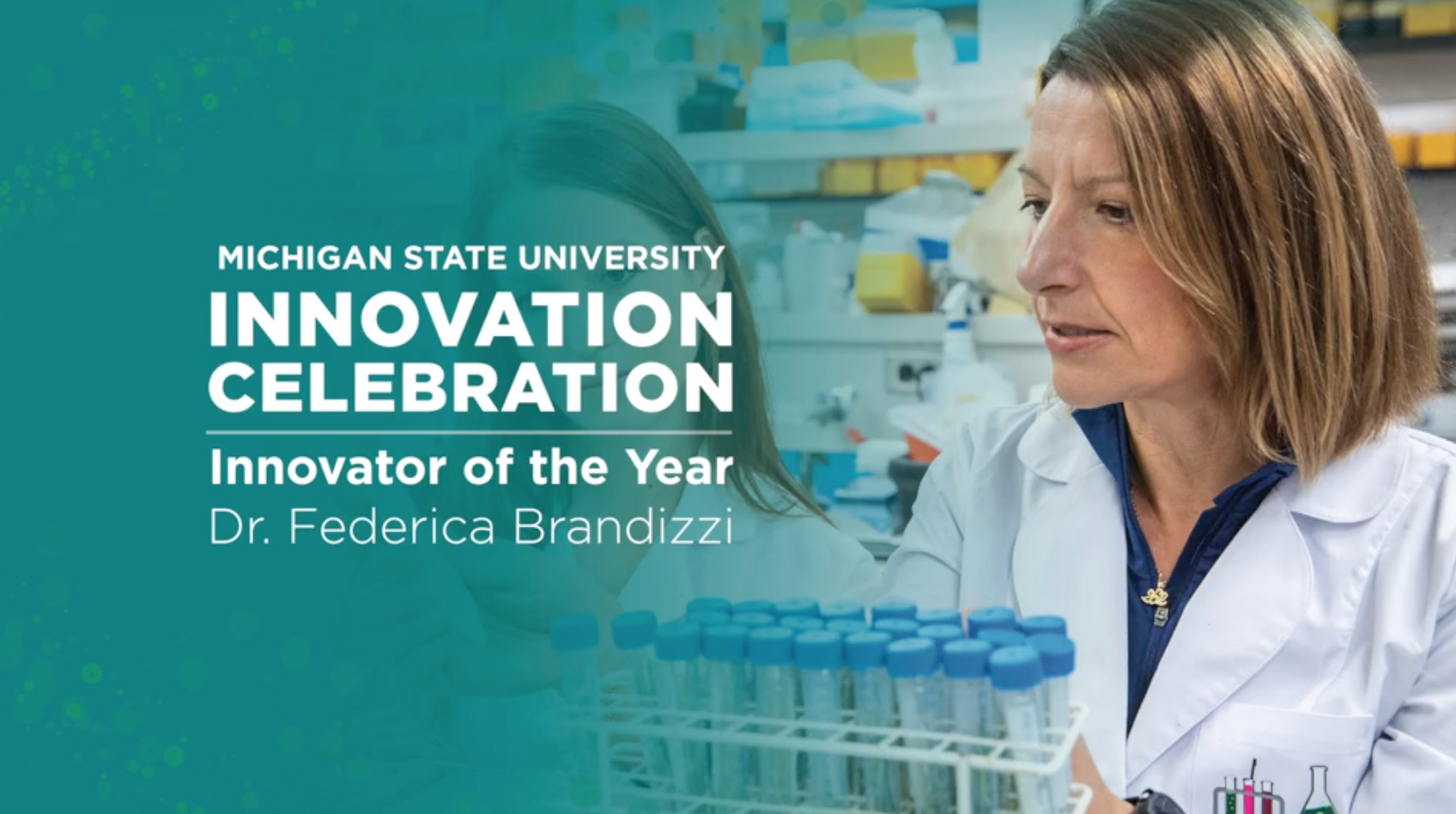 August 1, 2019
Pengfei Cao successfully defended his Ph.D. thesis! Another good news, we will not be loosing Dr. Cao. He will continue his research in the Brandizzi Lab as a postdoc to learn new skills in new projects. Well done, Dr. Cao!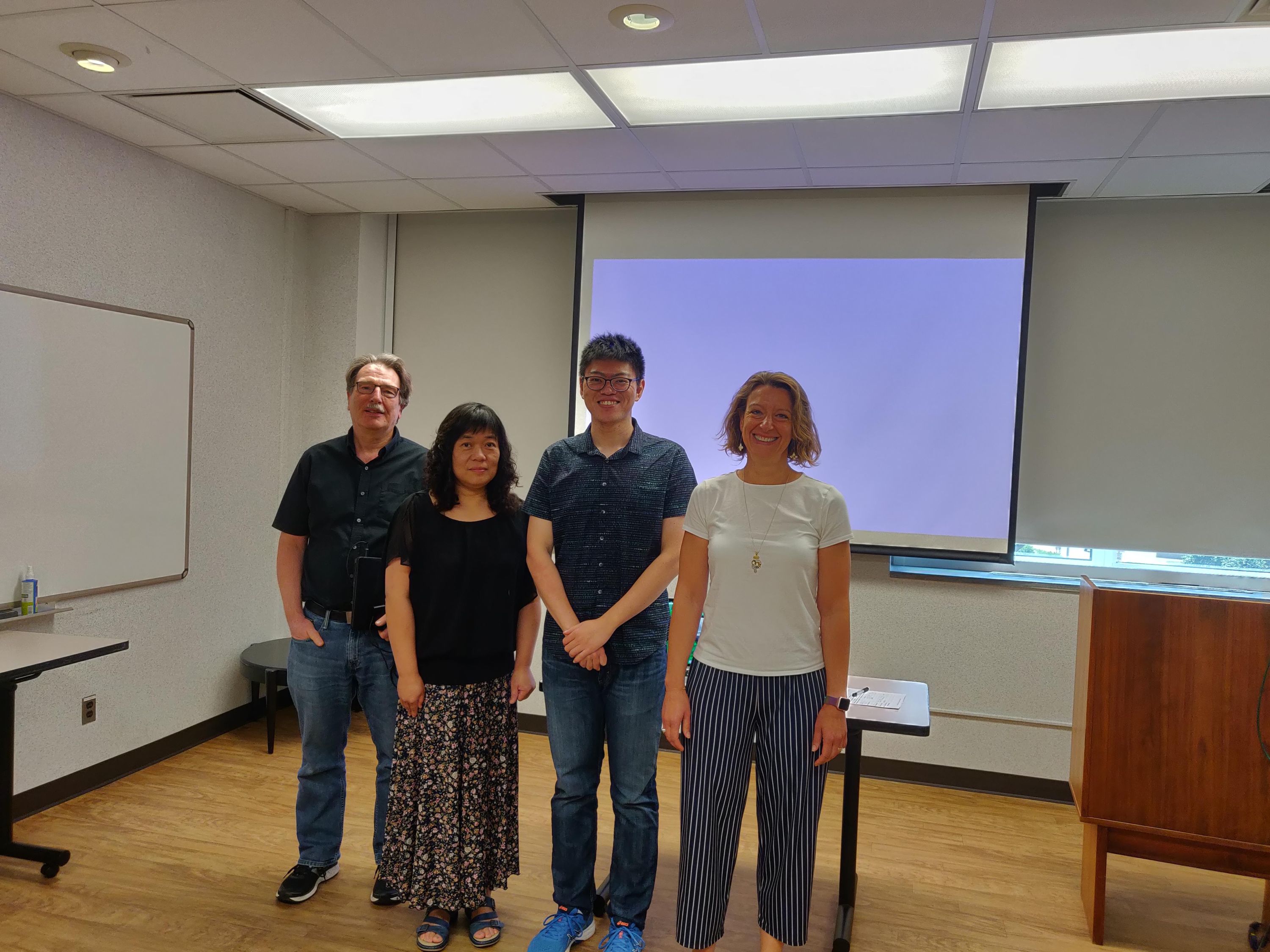 May 09, 2019
The 2019 Anton Lang Memorial Award, which is the most prestigious award for postdocs in MSU-PRL, goes to Dr. Luciana Renna! We are all proud of what Luciana has accomplished in the Brandizzi Lab. You deserve it!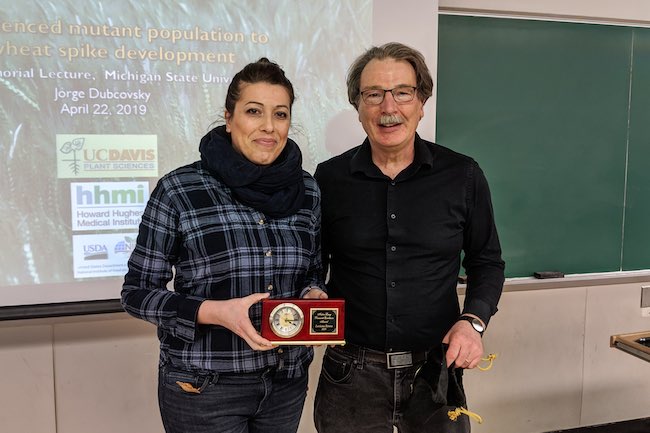 (Luciana Renna, left, with PRL director, Christoph Benning. Picture credit: Igor Houwat)
April 20, 2019
The Brandizzi Lab hosted Baby Shower for postdoc Dr. Yunting Pu. Congratulations on the newest addition to your family, Yunting!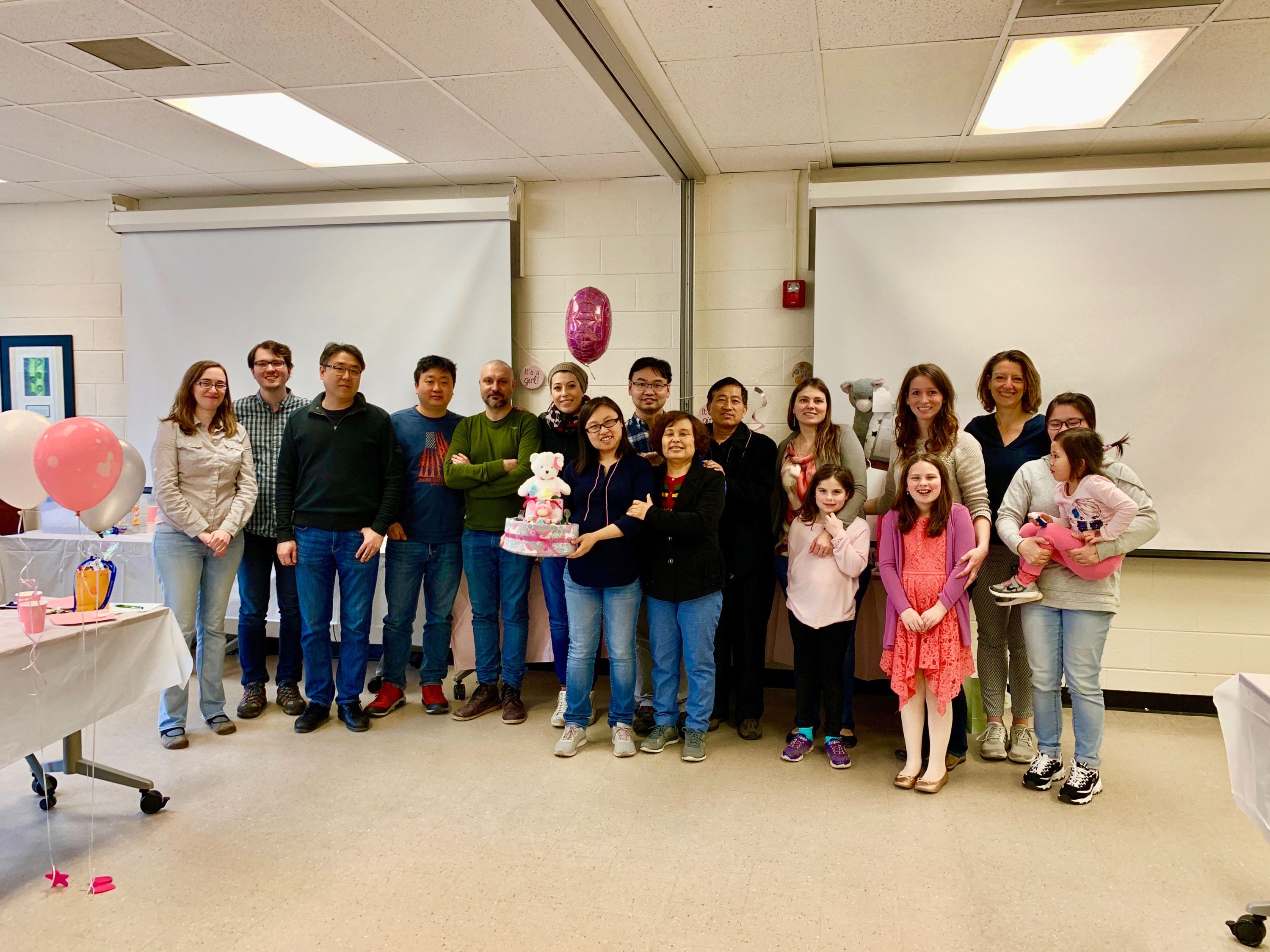 January 29, 2019
New insights into plant cell organelle and molecule movement
November 27, 2018
Dr. Federica Brandizzi named AAAS Fellow
September 25, 2018
Stressed plant roots warn the rest of the plant of looming dangers
September 17, 2018
Please let us introduce our new publication titled: "NADPH Oxidase activity is required for ER stress survival in plants" Angelos and Brandizzi, in The Plant Journal. This paper highlights that ROS play a positive role in ER stress management, which it is markedly different from animals and yeast.
August 28, 2018
Evan Angelos, Michigan native graduate student, has successfully passed his prelim and obtained the Ph.D. candidacy! Congrats!
August 22, 2018
Locating the Production Site of Glucan in Grass Cell Walls
June 19, 2018
Two plant cell 'hotspots' tell the cell where to import its resources
June 12, 2018
Study shows how a gene helps plants manage their protein production in stressful times
June 7, 2018
Announcing the inaugural winners of the Keegstra and Thomashow 2018 Travel Award
December 19, 2017
May 16, 2017
Growing pains and how that might affect seed quality
February 7, 2017
Growth-defense gene pulls many strings in plant cell factories
January 24, 2017
Investing in cell wall growth for improved photosynthesis
November 17, 2016
Discovering what keeps cellular cargo on track
August 29, 2016
Undergrads make strong showing at Mid-SURE Symposium
July 29, 2016