Brandon Reagan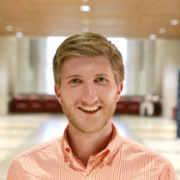 Title:
Postdoctoral Researcher
Education:
BS Mercer University
PhD The University of Tennessee-Knoxville
Research statement:
My previous research focused on understanding the mechanism of plasmodesmata formation and virus mediated changes in intercellular trafficking. In the Brandizzi lab, I will be working to identify novel regulators of ER structure and studying the relationship between ER structure and ER stress. Additionally, I will be identifying regulators of the specialized degradation of the ER through ER-phagy.
Email: reaganbr@msu.edu