Deepak D. Bhandari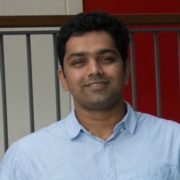 Education:
Ph.D., Max Planck Institute of plant breeding research, Koeln, Germany.
M.Sc., University of Madras, Chennai, India
B.Sc., SRM University, Chennai, India
Research statement:
My research in the Brandizzi Lab focuses on elucidating the role of TGNap1 in trafficking. The broader pivot of his research is in better understanding the dynamics of protein trafficking during biotic stress.
Email: