Naveen Sharma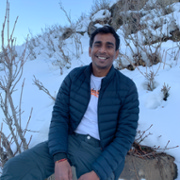 Title:
Postdoctoral Researcher
Education:
Ph.D., University of Delhi South Campus
M.Sc., University of Delhi South Campus
B.Sc., University of Delhi
Research statement:
I am fascinated with plants and have always viewed them as the nurturer of our world since our survival depends on plants and their photosynthesis. This fascination introduced me to the world of molecular biology and fortunately I ended up doing a PhD in the same. Previously, I worked on Wheat genome sequencing project and characterizing the Myo-inositol role in growth development and Stress tolerance. In the Brandizzi Lab, I will be investigating the role of Carbonic Anhydrase in Photosynthesis and the underlying mechanism.
Email: